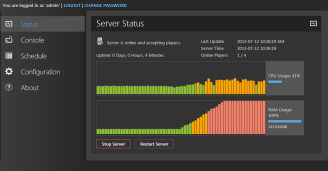 The easy way to manage your Cube World Server.
Manage your server from anywhere with CWMyAdmins slick web interface. Recover from crashes automatically and restart your server with a single click.
Download Now! » for Windows and Linux (64-bit Only)*
Easy to use
All of your servers functionality is just a few clicks (or taps) away. Restart your server now with one click, schedule an automated restart with three. No need to use the command line for trivial tasks.
Strong Foundations
Based on the same core framework as McMyAdmin, CWMyAdmin enjoys the benefit of 3 years of development on a reliable platform on which to build remote administration software.
Updated Reguarly
The features available right now barely scratch the surface. When the Cube World server is updated, CWMyAdmin will be as well to take advantage of new features.